eBook and Audiobook downloads are available for your devices through the Ontario Library Service Download Centre in partnership with Overdrive.
What is Overdrive?
Overdrive is a way to access thousand of ebooks and audiobooks for FREE from the Library.
How Can I Access Overdrive?
Your library card I.D. can be used to access books on-line from Overdrive.  You don't have to worry about returning them, they just return automatically when the loan is up.  And don't worry too much about the estimated time to get a book if you decide to place a hold on one.  They always seem to over-estimate how long it will take.
When you have Internet, go to the overdrive website to find the link to download the Libby app, give Libby up to 15 minutes to load, and then when you open Libby, the app will ask for your Library Name (Wollaston Public Library, you can choose it from the drop-down/wheel scroll menu) and your library card #.
Your library card # is on your library card.  Email the library for help if you have misplaced your card.
Once you have Libby set up, you don't have to put in the library name and card # again.  But, if you change screens (use a different device), it will ask you for the library name and card # to set up Libby on the new device.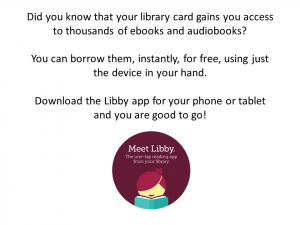 Libby is easy and fun to use.  I would give yourself half an hour to play around with it the first time.   One broad hint:  at the bottom of the screen, you will see:
Library        and           Shelf
If you click on  Library,  then you are in the library searching for something to borrow.  If you click on Shelf, then you are looking at your book bag, or shelf, which shows what is loaned out to you, any holds on books that you placed, and any other books that you "tagged" to remember to borrow from the library later on.
Have fun!
P.S. Any problems, please get in touch with me.  Sometimes the messaging on the system can be cryptic.  Usually, it has to do with your library card falling out of good standing, which can happen if you have some overdues here at the library, or have exceeded the borrowing limit at the library, or maybe you haven't visited for a couple years.  All easily fixed with an email or phone call.
What Do I Need to Start Using Overdrive?
Library card
Internet access
For more information or for help with your particular device please visit the Overdrive help page, which has how-to-videos, answers to your questions and more.
Visit the Overdrive Help Centre